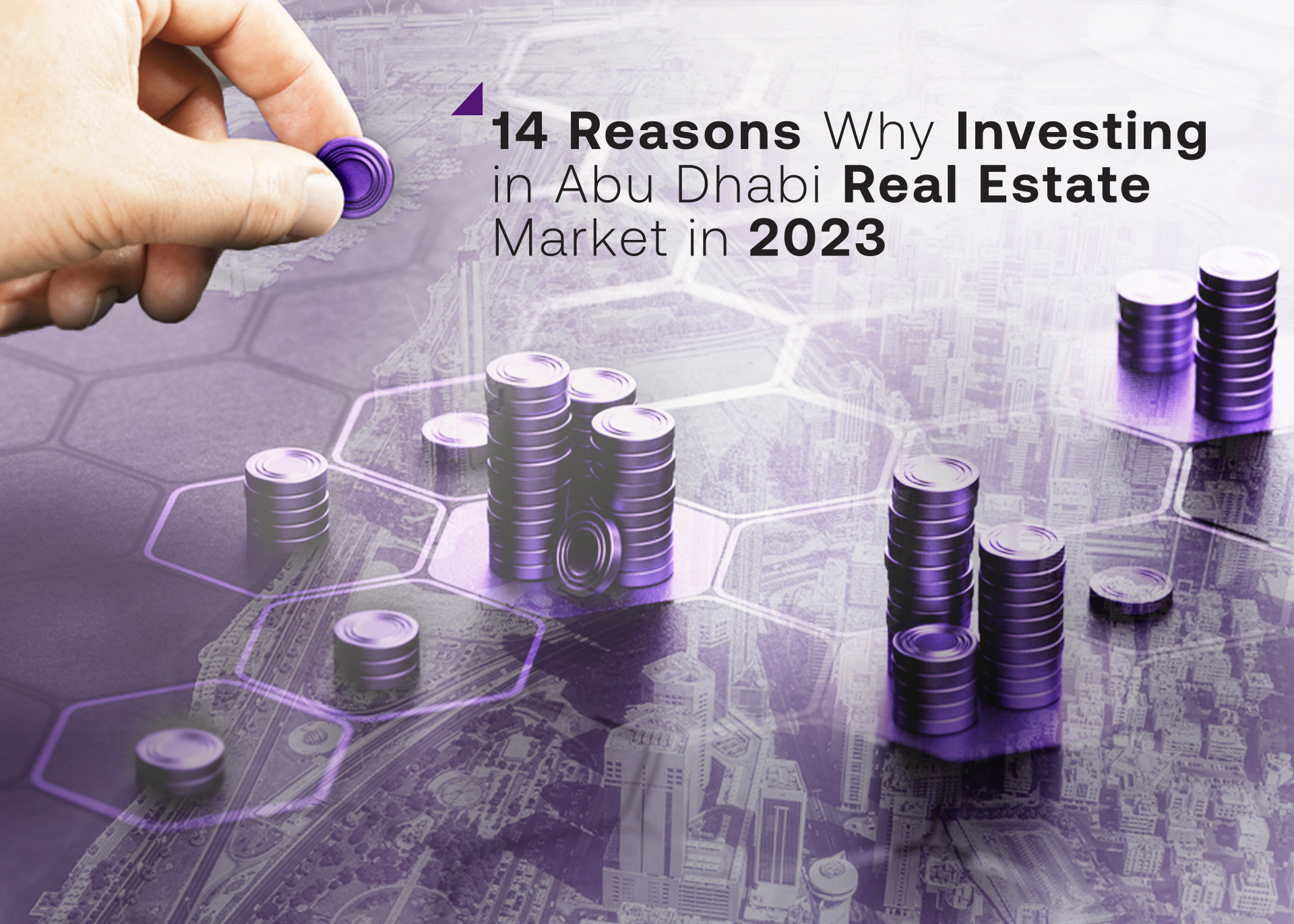 Hey there, folks! If you're looking for a smart investment opportunity that can set you up for long-term wealth and financial stability, look no further than the dazzling city of Abu Dhabi. This place has been making waves in the real estate world, offering a plethora of enticing opportunities for both investors and developers. So, grab a cup of coffee, sit back, and let's dive into the 14 compelling reasons why you should seriously consider investing in the Abu Dhabi real estate market in 2023.
1. The Thriving Economy of Abu Dhabi: A Solid Foundation for Success
Abu Dhabi's economy is a force to be reckoned with. It's a bustling hub of activity, driven by diverse sectors such as oil and gas, finance, tourism, and renewable energy. The city has done a remarkable job of reducing its reliance on oil revenues through strategic economic diversification. That means investing here gives you access to a stable investment environment, with a strong GDP growth rate and a business climate that's oh-so-friendly to real estate ventures.
2. Abu Dhabi's Strategic Location: Where the World Meets
Picture this: Abu Dhabi, a city that sits at the crossroads of Europe, Asia, and Africa. Now that's a location that spells opportunity. Thanks to its strategic positioning, this Emirate has become a major transportation hub, facilitating trade and commerce between continents. No wonder businesses, investors, and tourists flock here, driving up the demand for real estate properties.
3. Rapid Infrastructure Development: Paving the Way for Progress
Abu Dhabi is all about growth, and it's leaving no stone unturned when it comes to developing world-class infrastructure. The city has made significant investments in its transportation networks, including airports, seaports, and a sophisticated road system. And let's not forget those iconic landmarks like the Louvre Abu Dhabi and the upcoming Guggenheim Abu Dhabi, which only add to the city's appeal and boost property values. It's a win-win situation!
4. Stability and Security: Your Peace of Mind Matters
One of the things Abu Dhabi is known for is its rock-solid stability, safety, and security. The Emirate has a strong governance system and boasts low crime rates, making it a top choice for those seeking a stable and secure environment. When you invest in Abu Dhabi, you can rest easy knowing that your hard-earned money is protected by a safe and sound backdrop.
5. Attractive Rental Yields: Cha-Ching!
Ready for some great news? Abu Dhabi offers attractive rental yields, making it a real estate investor's dream come true. With a growing population, an expatriate workforce, and a flourishing tourism industry, the demand for rental properties is sky-high. That means you can enjoy a steady stream of rental income and a healthy return on your investment. It's time to let your money work for you!
6. Tax Benefits and Incentives: Keep More of Your Hard-Earned Cash
Hold onto your hats, folks, because Abu Dhabi has some impressive tax advantages for real estate investors. Get ready for exemptions on property income, capital gains, and even inheritance tax. That's not all – there are also incentives galore to encourage real estate investments, like reduced registration fees and long-term residency visas for property owners. It's like the city is saying, "Come on in, we want you to succeed!"
7. Expanding Tourism Industry: Where Adventure Awaits
Abu Dhabi's tourism sector is booming, attracting millions of visitors each year. And it's no wonder why. This Emirate is brimming with cultural heritage, breathtaking landscapes, luxurious resorts, and world-class entertainment options. As the tourist influx grows, so does the demand for short-term rental properties. That's music to an investor's ears – an opportunity to capitalize on the thriving tourism industry.
8. Growing Population and Demand: The Numbers Don't Lie
Abu Dhabi's population has been on a steady rise, fueled by factors like economic growth, employment opportunities, and an outstanding standard of living. And you know what a growing population means? Increased demand for residential and commercial properties, leading to a steady appreciation of real estate values. By investing in Abu Dhabi, you're tapping into a market that's always on the up and up.
9. Diversified Real Estate Market: Something for Everyone
Abu Dhabi knows how to cater to all sorts of investor preferences. Whether you're in the market for luxury villas, sleek apartments, commercial spaces, or mixed-use developments, this city has got you covered. There's a wide range of real estate options available, accommodating different budget ranges and investment strategies. It's a welcoming playground for both seasoned investors and newcomers alike.
10. Mega Projects and Future Developments: Think Big!
Abu Dhabi is no stranger to grandeur. It's known for its ambitious mega projects and futuristic developments that capture the world's attention. Take, for instance, the prestigious Saadiyat Island, Yas Island, and the upcoming Aljurf Gardens – these colossal endeavors fuel economic growth, attract international interest, and contribute to the overall appreciation of real estate values in the region. In Abu Dhabi, thinking big pays off!
11. Strong Government Support: Your Success is Their Success
The Abu Dhabi government is a proactive player when it comes to supporting the real estate sector. They've implemented policies and regulations that promote transparency, fairness, and investor protection. By creating a favorable environment for both local and international investors, the government has shown its unwavering commitment to the growth of the real estate market. You've got a reliable partner in your investment journey!
12. Well-regulated Real Estate Sector: Trust is the Name of the Game
Abu Dhabi's real estate sector is as transparent and efficient as they come. The regulatory authorities, such as the Abu Dhabi Department of Municipalities and Transport, keep a watchful eye and enforce strict regulations and standards. This commitment to maintaining the integrity of the sector ensures that investors like you can have confidence in the credibility and reliability of the market. Trust us, that peace of mind is priceless.
13. Foreign Ownership Rights: Open Doors to International Investors
Calling all international investors! Abu Dhabi welcomes you with open arms. The Emirate allows foreign investors to own properties in designated investment zones, presenting an attractive proposition. You've got options like long-term leasehold and freehold ownership, giving you full control and ownership of your properties. Abu Dhabi is breaking down barriers and building bridges to global investment opportunities.
14. Quality Lifestyle and Amenities: Invest in Happiness
Investing in Abu Dhabi isn't just about financial returns; it's also about embracing a world-class lifestyle. The Emirate offers luxurious residential communities, state-of-the-art healthcare facilities, prestigious educational institutions, and a plethora of leisure and entertainment options. It's a place where you can truly have it all – the perfect blend of investment and a remarkable lifestyle experience.
So there you have it, folks – 14 rock-solid reasons why the Abu Dhabi real estate market in 2023 is a gold mine waiting to be explored.
FAQs
Q: Is Abu Dhabi a good place to invest in real estate?
Abu Dhabi is an excellent place to invest in real estate. With a thriving economy, strategic location, attractive rental yields, and government support, the city presents numerous opportunities for real estate investors.
Q: Are there tax benefits for real estate investors in Abu Dhabi?
Yes, Abu Dhabi offers several tax benefits for real estate investors. These include exemptions on property income, capital gains, and inheritance tax. Additionally, there are incentives such as reduced registration fees and long-term residency visas for property owners.
Q: What are the popular real estate investment zones in Abu Dhabi?
Abu Dhabi has several popular real estate investment zones, including Saadiyat Island, Yas Island