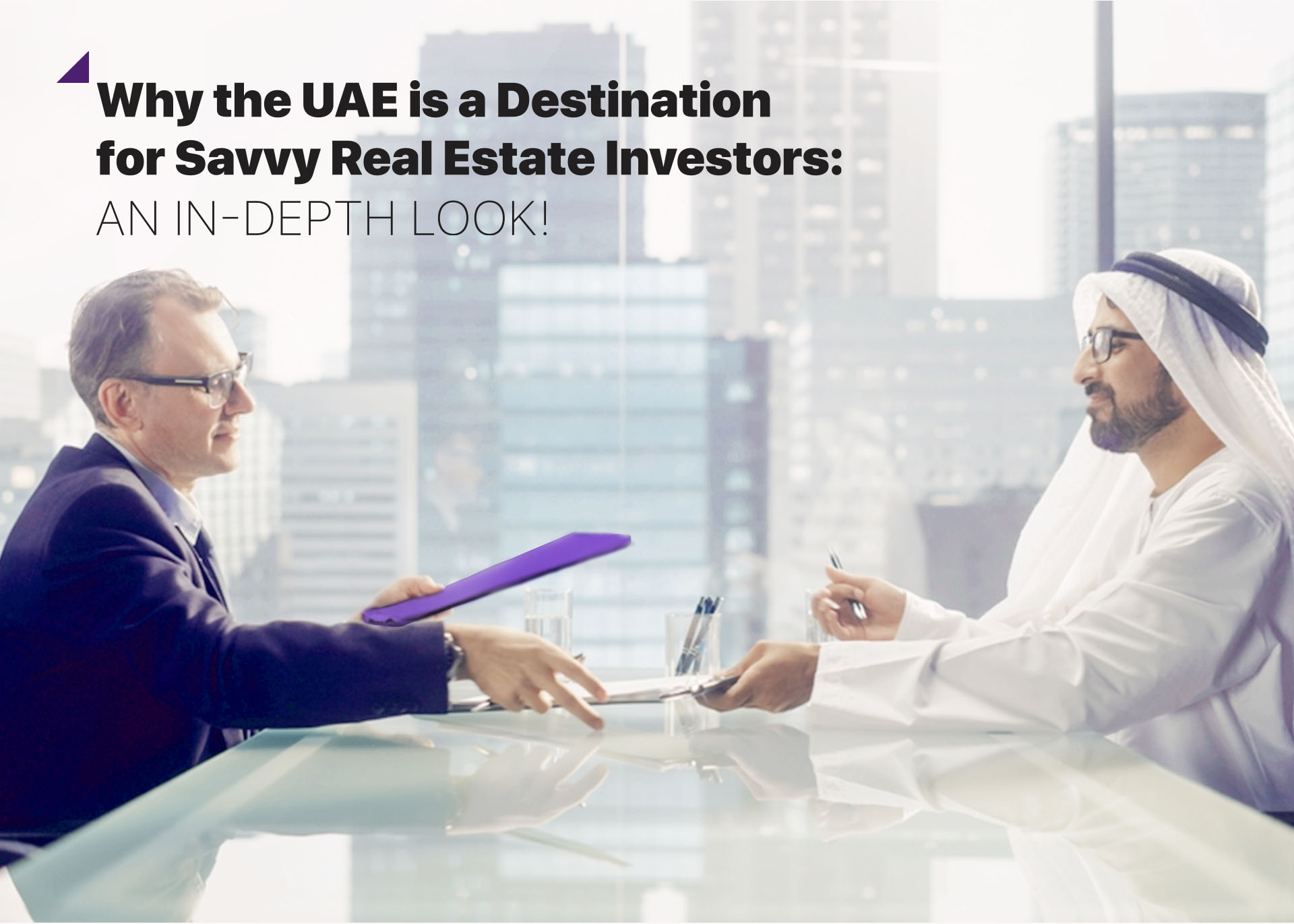 Are you seeking a lucrative investment opportunity? Have you thought of making an investment in UAE real estate? With its booming economy, expanding population, and a number of recent projects, this could be the ideal time to relocate. Recent sources claim that the UAE's real estate sector experienced a 7% increase in sales over the previous year, with a total of AED 45 billion in registered transactions. Additionally, the average prices in Dubai's real estate market increased steadily over the previous 12 months, rising 5.5%. But why exactly should you put money into the real estate market in the UAE?Read on to discover the compelling reasons why this dynamic and exciting region offers a wealth of opportunities for savvy investors. From the benefits of a growing economy to the appeal of world-class amenities and lifestyle, the UAE's real estate market is poised for growth. So don't miss your chance to take advantage of this exciting opportunity and learn why you should invest in real estate in the UAE now!
The UAE's Rapidly Expanding Population: A Catalyst for Wealth Creation
As the UAE's population continues to soar, so does the potential for wealth creation. Dubai, for instance, has experienced an incredible 1000% population growth in just 40 years and is expected to double its numbers in the next decade. With a growing population comes increased economic activity, presenting a multitude of opportunities for those looking to grow their wealth. The UAE's fast-paced population growth is not just a testament to its thriving economy but also a clear indication of its potential for continued growth and prosperity. Don't miss out on the chance to tap into this thriving market, as the UAE's expanding population is a catalyst for wealth creation.
A Haven of Safety: The UAE's Unwavering Commitment to Security
Safety is a key concern for many individuals, especially when it comes to choosing a place to call home. The UAE understands this and has taken proactive measures to ensure its residents and visitors feel secure. This commitment to security has not gone unnoticed, with the World Economic Forum ranking the UAE as one of the safest countries in the world. The country's stringent security policies, proactive security initiatives, and tolerance policy have attracted a diverse community of expatriates from all over the world. If safety is a top priority for you, consider making the UAE your home. With its unwavering commitment to security, you can rest assured that you and your loved ones will be well taken care of.
A Magnet for Tourists: The UAE's Thriving Tourism Industry
The UAE is a destination of choice for tourists from around the world, attracting millions of visitors each year. With its stunning architectural marvels such as the Burj Khalifa and the Palms Jumeirah, the country is a marvel to behold. The World Travel and Tourism Council (WTTC) predicts that the tourism industry in the UAE will continue to grow, with a projected 3.2% increase in income each year, contributing 8.5% of the nation's GDP (AED 167.4 billion) by 2024. The UAE's thriving tourism industry is just one of the many reasons why you should consider investing in the country. With its unique blend of world-class attractions and a thriving economy, the UAE is a wise choice for those looking to maximise their investment potential.
Invest Without Restrictions: The UAE's Visa-Free Property Ownership
The UAE offers investors a unique opportunity to acquire property without the need for a residency visa. This is made possible through the country's free zones, which allow for investment without the requirement for a permit. Not only can investors purchase property in these areas and put it up for rent, but they are also free to come and go as they please. And for those who want to take their investment to the next level, buying a property worth more than AED 500,000 makes them eligible for a residency visa. The UAE's visa-free property ownership is just one of the many reasons why it is an attractive destination for investors looking to maximise their return on investment. Don't let residency restrictions hold you back from investing in this dynamic and thriving market. Here are some newly launch promising projects to invest in Yas Park Gate , Manarat Living, Explore these options in the UAE today.
Invest with Confidence: The UAE's Tax-Free Real Estate Policy
The UAE offers investors a tax-free policy, regardless of the type of property they are purchasing - be it an office space, residential villa, or apartment building. This policy applies to investors from any part of the world, making the UAE an attractive destination for those looking to invest in real estate. However, it's important to note that there is a 4% property transfer fee for those looking to own property in Dubai. Regardless, the UAE's tax-free policy is a major advantage for investors, providing them with the confidence they need to make informed decisions and maximise their return on investment. Don't let taxes hold you back from investing in the UAE's thriving real estate market. Explore your options today.
Unleash Your Potential: 100% Foreign Ownership in UAE Real Estate Brokerage Firms
In June 2021, the UAE government made a game-changing announcement: foreigners and expatriates can now fully own real estate brokerage firms. Prior to this, ownership stakes were limited to 49% or less for foreigners. But now, with the launch of 100% foreign ownership reform, the doors are wide open for more opportunities in the real estate scene. Whether it's starting a real estate business, buying into a firm, or buying out native shareholders, the possibilities are endless. Don't miss out on this incredible opportunity to unleash your potential in the UAE's thriving real estate market. Explore your options today.
In conclusion, investing in the UAE's real estate market is a smart and lucrative opportunity with a wealth of benefits, from a fast-growing population to a thriving tourism industry and tax-free policies. For those seeking a trusted and value-driven agency to guide them through the process, look no further than First Choice Properties. With a commitment to integrity, trust, diversity, and delivering value, First Choice Properties is the ideal choice for anyone looking to invest in the UAE's real estate market. Contact us today to start your journey to financial growth and stability.